Upgrade Your Account

to Enjoy More Benefits!
EON offers various types of accounts, depending on your needs and budget. Upgrade your account to unlock more features and increase your account limits! It's quick and easy to upgrade through the EON app. No need to go to a branch and fill up forms, do it all digitally online with the EON app.
How to Upgrade
Your EON Account
1
Log in to your EON account
Go to the Account Management Page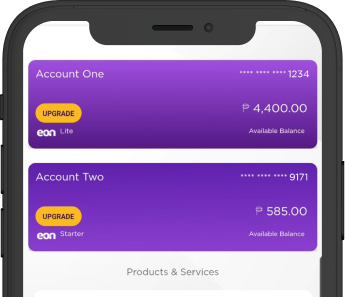 2
Tap the Upgrade icon.
Take note that EON Starter can only be upgraded to EON Lite, EON Lite can only be upgraded to EON Plus, and EON Plus can only be upgraded to EON Pro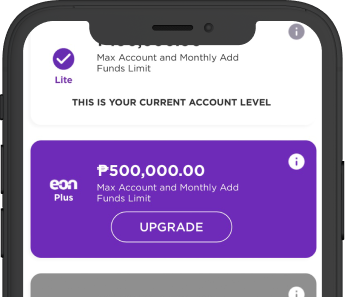 3
Our team will verify your upgrade request
Once verified, you will receive a notification that your account has been upgraded.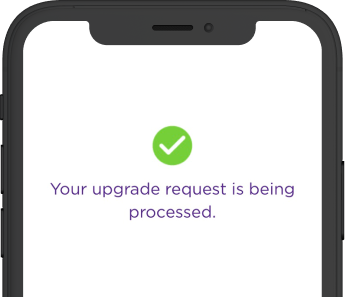 Upgrade Your Account to Enjoy More Benefits
Starter

Get Now

Lite

Upgrade

Plus

Upgrade

Pro

Upgrade

Cyber

Get Now




DETAILS

Maximum Account Limits
PHP 5,000
PHP 100,000
PHP 500,000
PHP 1,000,000
N/A
Account Withdrawal Limits
PHP 5,000
PHP 100,000
PHP 500,000
PHP 1,000,000
N/A
Frequency
One-time
Monthly
Monthly
Monthly
Monthly

Upgrade

You can only upgrade to the next tier of your current account.

Lite
Plus
Pro
N/A

SERVICES

Add Money
Buy Load
Top Up
Pay Bills
Send Money
to own EON account
to other EON accounts
to UnionBank
to InstaPay
to PesoNet